Books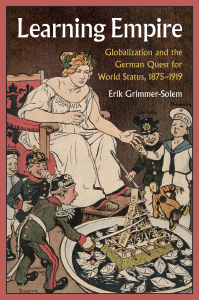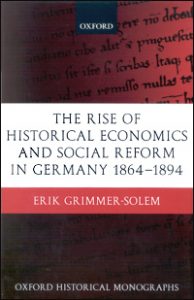 ---
Articles
Article on the theory of limited and open access orders as applied to German history in Ordnung und Chaos: Trends und Brüche in der Wirtschafts- und Sozialgeschichte ed. G. Schulz (2019)
Review article on India and the Great Divergence in History and Theory (2018)
Chapter on the political economy of German overseas expansion and navalism before the Great War in The Legitimacy of Power ed.  R. Fredona and S. Reinert (2018)
Article on the transfer of social political thought from Germany to the United Sates and Japan in Francia (2016)
Chapter on geopolitics and economics on the eve of the First World War in Die Zeit um den Ersten Weltkrieg als Krisenzeit der Nationalökonomen, ed. M. Trautwein (2015)
An article comparing Imperial Germany with contemporary China Constitutional Political Economy (2014).
Article on the fate of the Jews in the southern Ukraine during the German invasion of the Soviet Union, June-December 1941 in Militärgeschichtliche Zeitschrift (2013).
Review Article on national identity and historiography in postwar West Germany and Japan in History and Theory (2012)
Chapter on Prussian higher education policy in Meiji Japan in the context of imperial competition with Britain, France and the USA in Kulturstaat und Bürgergesellschaft: Preußen, Deutschland und Europa im 19. und frühen 20. Jahrhundert, ed. Wolfgang Neugebauer and Bärbel Holtz (2010)
Article on the German Colonial Empire in The Oxford Encyclopedia of the Modern World, ed. Peter Stearns (2008)
Article on the "Jewish Question" in Germany during the First World War in Leo Baeck Institute Year Book (2007)
Article on German economists and African colonialism in German History (2007)
Article on the influence of German social science in Meiji Japan in Journal of World History (2005)
Chapter on Gustav Schmoller and the German High Seas Fleet in Wilhelminism and its Legacies, ed. Geoff Eley and James Retallack (Berghahn Books, 2003)
Article on Historical Political Economy, in The European Journal of the History of Economic Thought (1999)
Article on the Historical School of Economics in Germany, Britain, France and Italy, in History of European Ideas (1998)
I have also published a number of commentaries, book reviews and contributed encyclopedia entries to the Routledge Handbook of the History of Global Economic Thought, the Encyclopedia of Law and Society and the Encyclopedia of Consumer Culture.